June 17-July 3, 2025
Land of the Midnight Sun & Summer Solstice
Cruise what's known as the most beautiful place on earth – Norway and its stunningly beautiful fjords aboard the Emerald Princess
Those fabulous fjords

Join YMCA Alumni on this 16-day ocean adventure with 10 fascinating port stops while cruising through Norway's magnificent deep blue fjords. The cruise embarks from and returns to Southampton, England allowing for pre or post extensions to London.

Our ship is the famed Emerald Princess, which debuted in 2007 and was most recently updated in April 2019. This is one of the largest ships in the fleet, carrying up to 3,080 passengers and 1,200 crew members, and it offers balconies in 80 percent of its exterior cabins. The accommodations are sleek and spacious plus dining and onboard activities are unmatched.

No worries. Register now to receive the best pricing and choice of cabin. Refunds are possible if necessary with no penalties until 91 days prior to departure.

Day-by-Day to savor

Day 1 --Southampton, England: We embark from Southampton at 4 p.m. Southampton, on the south coast of England is a major port city, with a long history of maritime trade. It is well-connected to the rest of the country, with more than 50 trains providing service to London every day just an hour away. Southampton is a vibrant and diverse city, with a wide range of shops, restaurants, and entertainment venues.
Day 2 -- Sea Day: Take advantage of the many onboard activities during your day at sea. You'll have more than enough to fill your day and evening.
Day 3 -- Bergen, Norway: This is a classic Norwegian town full of colorful charm. You can wander up narrow streets into the surrounding hills or enjoy Gamte Bergen, the old town, with cobbled streets and wonderful little shops and restaurants.
Day 4 -- Olden, Norway: Situated along the innermost arm of the Nordfjord, this picturesque village of western Norway is surrounded by some of Scandinavia's most captivating scenery. Here lies the largest glacier of them all.
Day 5 -- Sea Day
Day 6 -- Svolvaer, Norway: Discover a picturesque harbor overlooking the Vestfjord. The towering islands of the Lofoten Wall stretch for more than a hundred miles along Norway's coast.
Day 7 -- Sea Day -- Celebrate Midsummer and the Summer Solstice on St. John's eve with fun and activities, but don't expect the sun to set!
Day 8 -- Honningsvag, Norway: Welcome to the top of the world! The village of Honningsvag, bathed in the eerie light of the midnight sun, is the northernmost community in Europe, set in a land of vast forests and dramatic fjords.
Day 9 -- Alta, Norway: There are few better places than Alta to get an understanding of Northern Norway's prehistoric past. The Rock Art Centre, also known as Alta Museum, is a fascinating cultural treasure, so much so that it has become a UNESCO World Heritage site.
Day 10 -- Tromso, Norway: This the home of the famous Northern Lights Observatory, and is beautifully situated on a forest-covered isle. Take a leisurely island tour and visit the Tromso Museum and an ultra-modern cathedral.
Day 11 -- Sea Day
Day 12 -- Trondheim, Norway: This city has been the home of Norway's royal residence since AD 997 when it was founded by King Olaf I. The city is still home to Stiftsgarden, a huge wooden palace.
Day 13 -- Andalsnes, Norway: Situated southeast of Molde, Andalsnes is at the head of the Romsdalsfjord. Dominated by the Andalsnes Mountain, the town lies in a pretty valley between the spectacular mountains and the tranquil seas.
Day 14 -- South Queensferry, Scotland, United Kingdom: This is a picturesque town setting, and stunning views of the Forth bridges. A short bus ride to Edinburgh (30 minutes) might be on your agenda for a quick sight-see.
Day 15 -- Sea Day
Day 16 -- Southampton, England: Our ocean adventure concludes today.

The details...

What will it cost?

The cost of your cruise depends on the choice of your cabin. The least expensive is an interior stateroom at $2,869 pp. An ocean view cabin is from $3,269 pp; the most popular choice of YMCA Alumni cruisers is a balcony cabin from $4,159 pp. A mini-suite is from $5,989. Single cabins are also available. Consider this is a 16-day cruise and all your meals and many shipboard activities are included.

There are also packages available that include everything including drinks and excursions. Any way you figure it, cruising is a bargain. Your GoTravel Representative will help you determine the best options for you.

Reserving your cabin early brings the best choices and locations. Things happen in life and you may cancel up to 91 days before sailing date to give you peace of mind.

About our ship

The Emerald Princess includes 1,539 cabins accommodating 3,080 guests. The crew numbers 1,200. There are 19 decks. The inaugural sailing was in 2007 and the entire ship was refurbished in 2019. A balcony cabin, for example, gives you a front row seat for all the scenic beauty of the fjords.

Your culinary journey at sea reaches new heights with an abundance of fresh restaurant choices and dining options. From top deck venues like Salty Dog Grill and Slice Pizzeria there's something for every palate. Don't miss Sabatini's Italian Grotto, Crown Grill, the Chef's Table, World Fresh Marketplace Buffet and Vine's Wine Bar. There's 24-hour room service, too. Explore The Shops of Princess, Vegas-style casino, fresh water pools and hot tubs, sports courts, internet café and library, afternoon tea. And, plenty of entertainment at night.

Those fjords...

A fjord is a long, deep, narrow body of water that reaches far inland. Fjords are often set in a U-shaped valley with steep walls of rock on either side. Some of the largest and most stunningly beautiful fjords in the world are found in Norway. Fjords were created by glaciers. In the Earth's last ice age, glaciers covered just about everything.

Glaciation carves deep valleys. This is why fjords can be thousands of meters deep. Fjords are usually deepest farther inland, where the glacial force was strongest. Fjords (translated to "where you travel across" in Norwegian) are generally calm and protected. This makes them popular harbors for ships.
Register today

The registration process is simple. Just click on the Go Travel button below. Fill out the form and make your deposit. An expert Go Travel representative will contact you and help you determine the best cabin for your needs and desires. They can also get you the best fares and airline routes.

Yes, there are lots of cabins on the Emerald Princess, but cruise travel is extremely popular today and they fill up quickly. Be sure to book your stateroom when you register as the best choices go quickly.

Several YMCA Alumni trips sell out quickly each year. Don't be left out.

Go Travel Representatives will help you with pre and/or post visits to London or anywhere else.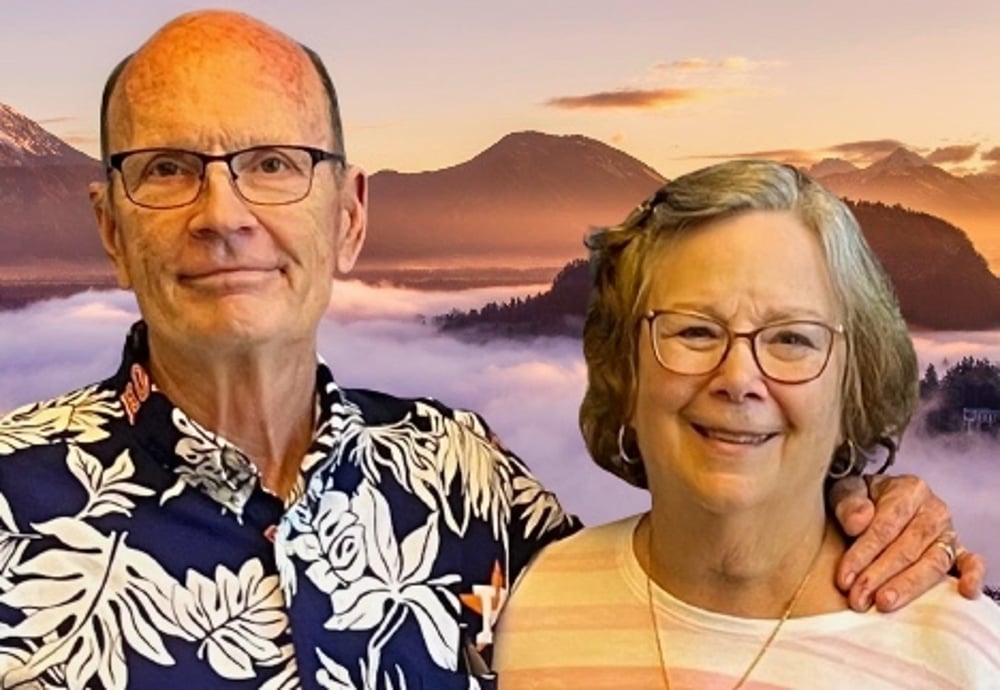 Your YMCA Alumni Hosts...
Patrick and Jan Murphy

Patrick and Jan hosted the first YMCA Alumni Travel Club's Alaska By Land and Sea cruise in 2019. They traveled to Norway in 2022 and are excited about returning again -"Norway is just amazing; perhaps the most beautiful country we have seen!" Patrick is past chair of the Travel Club and they are members of the Schreiner Chapter. They are veteran travelers and will welcome you to the Land of the Midnight Sun cruise.